Session Details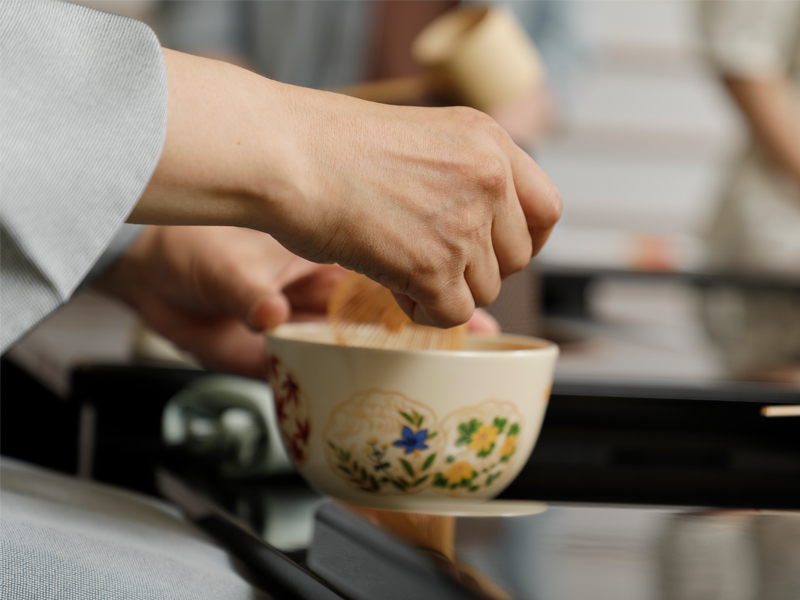 Make usucha (thin tea) and take photos
Let's make usucha by yourself.
Use tea utensils, add matcha (powdered green tea) in the bowl and pour hot water. Stir with chasen (bamboo whisk).
Return to your seat and enjoy your tea with the Japanese dry sweets.
Exchanging the tea bowls among your group isalso recommended.
You may take photos at any time during your experience in the session.
Why don't you take photos with your friends and families with our okidoko (alcove) in the background?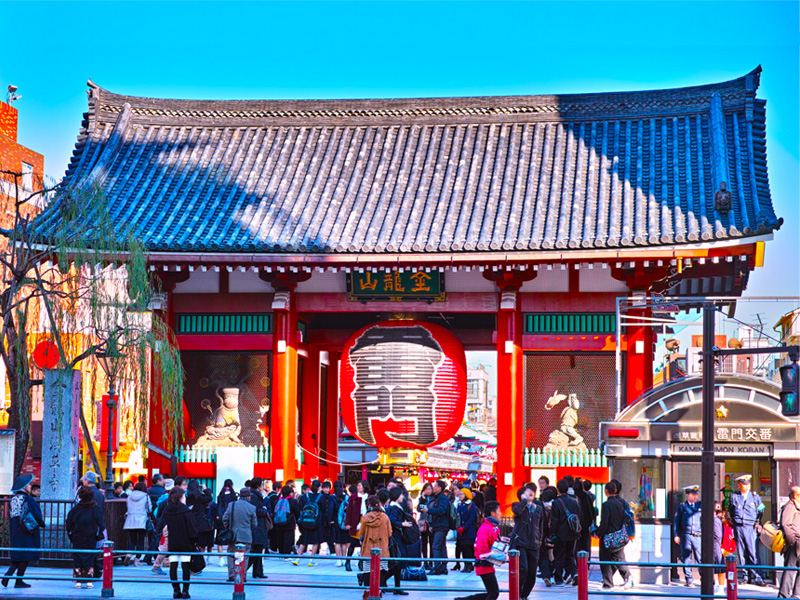 Visit us with other sightseeing spots in Asakusa
Yamayuri tearoom is only six minutes on foot from Asakusa Station, Tobu Isesaki (Tobu Skytree) Line, Tokyo Metro Ginza Line, and Toei Subway Asakusa Line.
It is also a sixminute walk from popular locations among tourists such as Sensoji Temple, Sensoji Shrine, Senso Nakamise Shopping Street, or Kaminarimon Gate.
A session for tea ceremony experience is start from 40 minutes and the price is 1,500 yen. Yamayuri tearoom is located in a very convenient area so you you can easily make plans with other sightseeing locations.
Feel free to try out a Japanese Tea Ceremony session in Japan.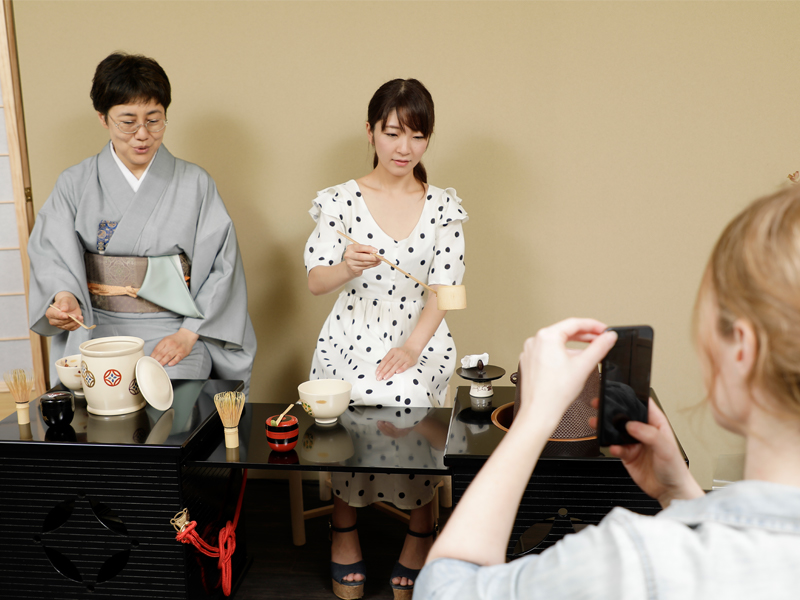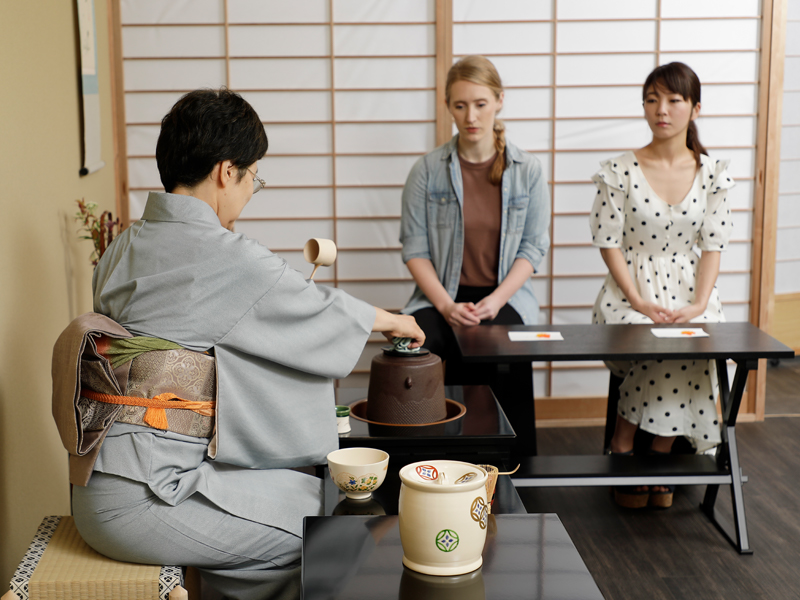 Private sessions are available
Private session are suitable for family with children or a group.
Private session price
Number of participants:
1 to 4: additional charge 6,000 yen
5: 7,500 yen
6: 9,000 yen
Up to four people, private session is available for an additonal with 6,000 yen.
From four to six people is available with additional charges of 1,500 yen per person.
Please keep an eye on your child so they do not touch hot water or utensils.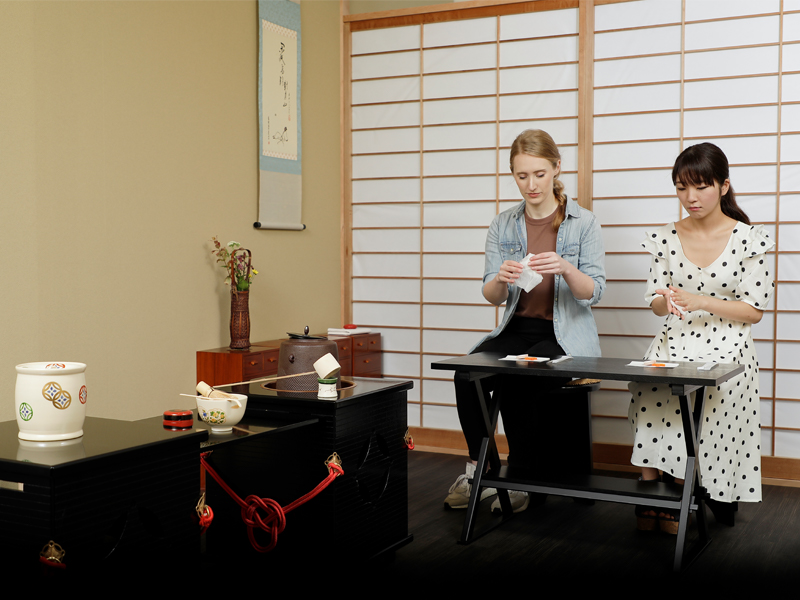 Experience Japanese Tea Ceremony in a formal ryurei style
For "Japanese Tea Ceremony", you may imagine making tea in a tatami mat room with tokonoma (alcove), sitting on your knees. However, in Meiji Period (1868-1912) a table and chair for tea gatherings were established.
At the Kyoto Exposition in 1872, the table-and-chair style of serving tea was developed by the 11th grand tea master of Urasenke, Gengensai, to entertain foreign guests who were not used to sitting on their knees.
This style of using tables and chairs for serving tea is called "ryurei style".
At first, tables and chairs were prepared to be set on a tatami mat room.
Later, tables and temae (tea procedure) only for usucha (thin tea) outside of tatami mat rooms were developed.
In Yamayuri, we use tables specially produced for making usucha outside of tatami mat.
This table is called Misonodana. It was established by Tantansai, the 14th grand master of Urasenke, for a tea gathering in Kyoto Imperial Palace in 1952, celebrating the coming of age of the then Crown Prince (now Emperor Emeritus) Akihito.
The table and chair are respectively called kikka and en-i.
The rug on the en-i is called en-za, and it is also used on benches along the streets.
For en-za, bamboo skin is used on the surface, weaving wara (straw), suge (sedge), makomo (Manchurian wild rice) and so on into round and flat pieces.
The tokonoma (alcove) in Yamayuri is called "okidoko", and it is one of the varieties of tokonoma styles.
Okidoko is set to the proper height for ryurei-style tea ceremony.
Okidoko is decorated with a kakejiku (hanging scroll), seasonal flowers and a kogo (incense container).
Session Flow
1

Sign up

Sign up online anytime.
Sign up by phone is not available.
Session Fee
Prices start from 1,500yen / start from 40 minutes /
per person / at one time
(reservation only) Irregular holidays
2

Visit Us

6 minutes on foot from Sensoji Temple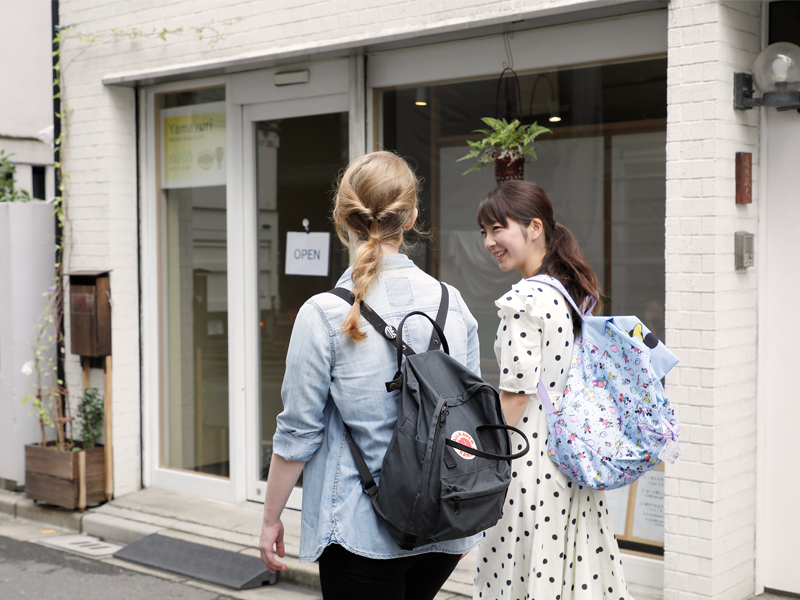 Visit us on the reserved date and time and confirm at the front desk. Yamayuri is here.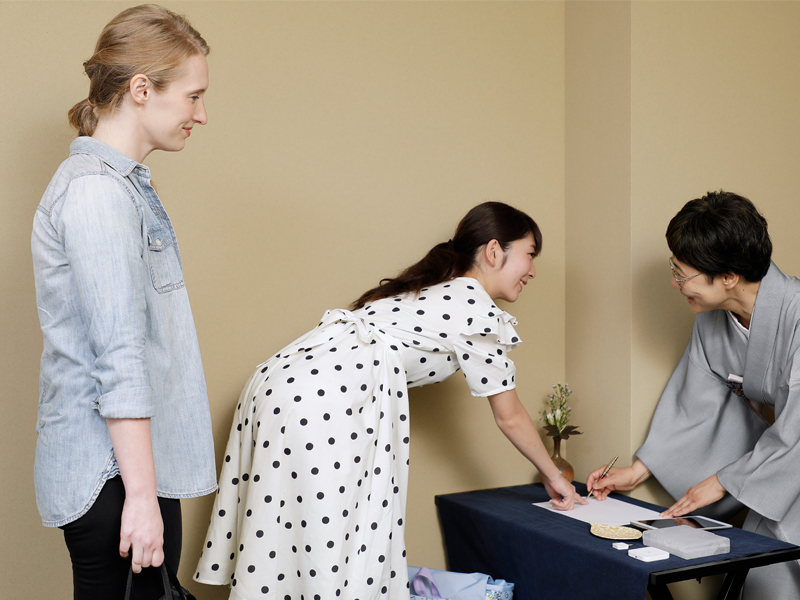 Tell the front desk your name and the number of your group members. (Japanese Yen. Credit card available. VISA, mastercard, AMERICAN EXPRESS)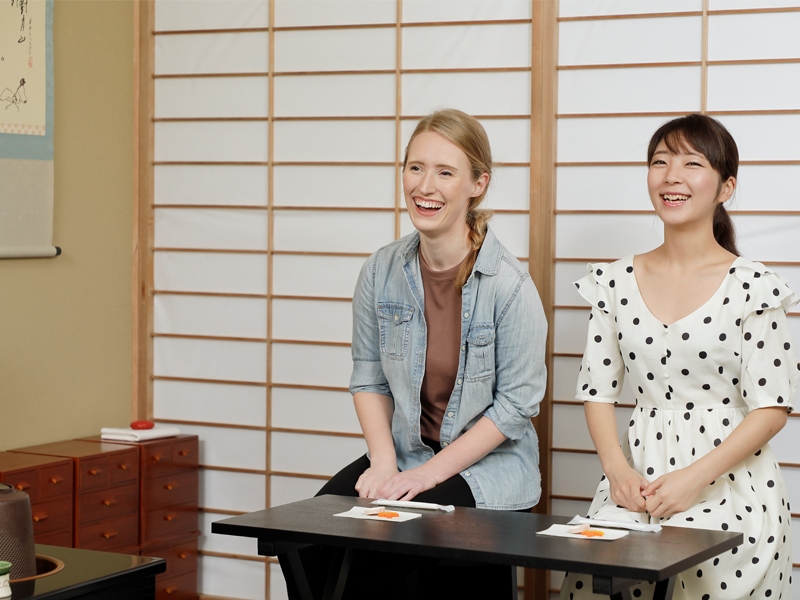 Put your bags and have a seat. Take out your smartphones and so on if you want to take photos of yourself during the experience.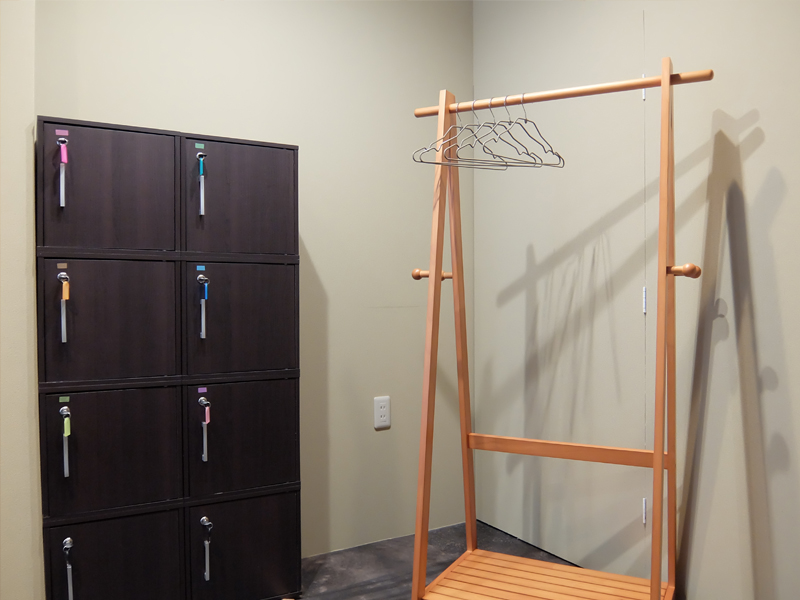 Valuables locker and luggage area
Lockers with are available for your valuables.
Place your luggage in the space in front of the wall.
A rack is available for your jackets and small bags.
3

Experience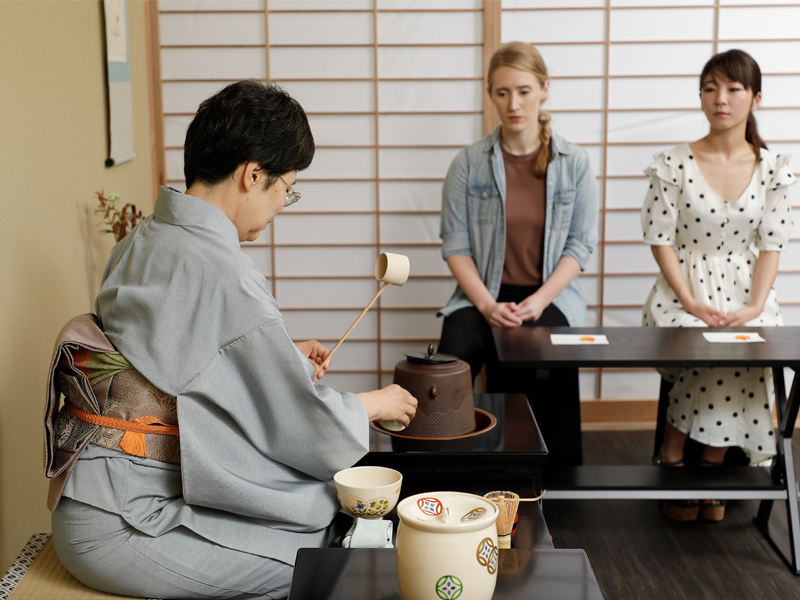 Teacher will show you how to make thea tea.
(Please avoid taking photos while the teacher is making a tea)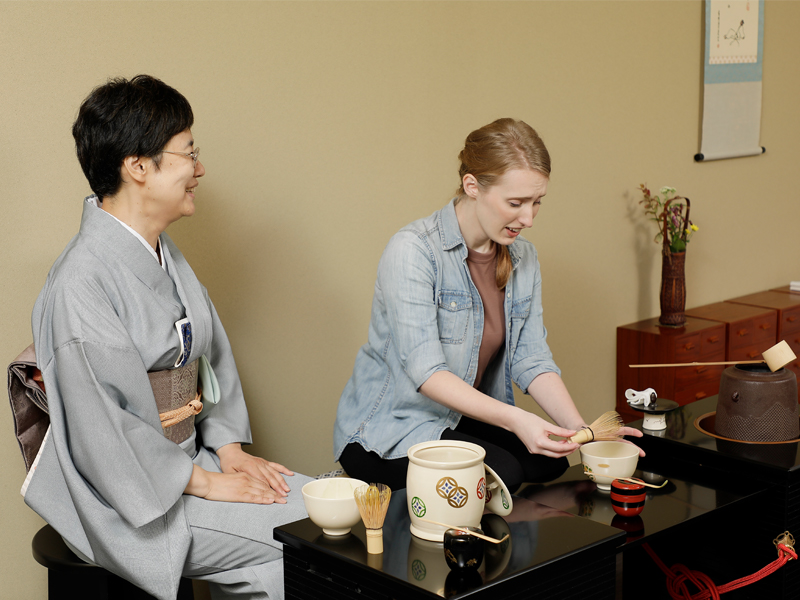 Now it's your turn to make thin tea. Take photos of yourself.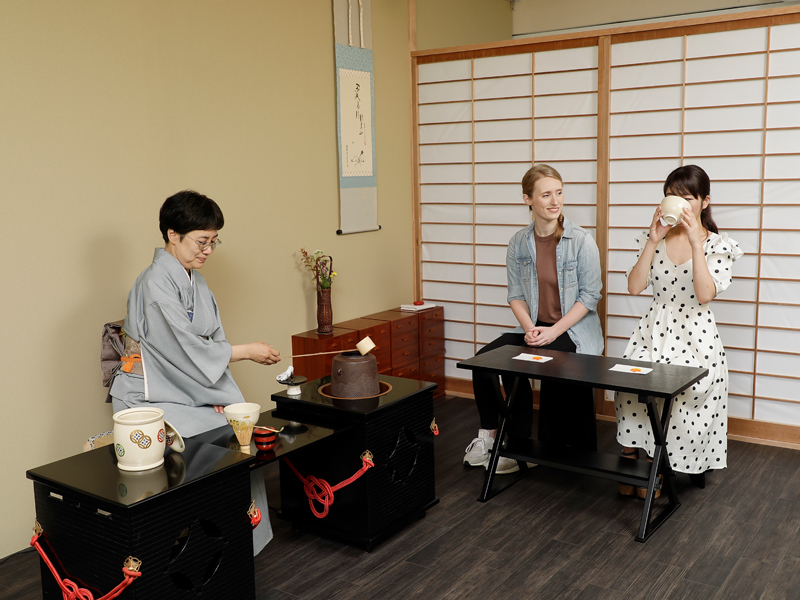 Enjoy your tea with seasonal dry sweets.